The Fender Stratocaster Star Trek Guitar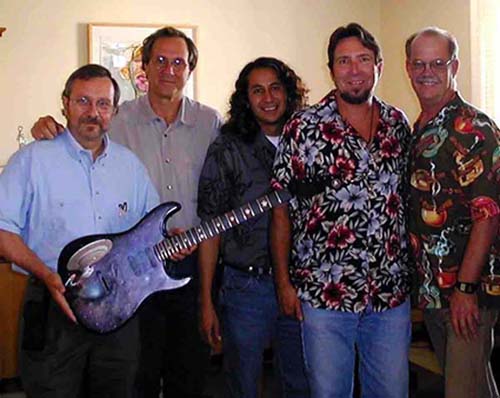 Dan Curry, Rick Berman, George Amicay, Alan Hamel and Ron Moore pictured here with the prototype Fender Stratocaster Star Trek Guitar.
There is only the one carved Star Trek guitar. The cost of the guitars was way too high and I was unable to find any interest in producing more. There was also a special case that opened with the push of a tricorder button. I had hoped to make a version with a standard case and without the carving. I believe this guitar could have been made in the Fender custom shop for less that $5000.00 and maybe even less by another manufacturer.
It was a long project getting the guitar built. It took me over 5 years of negotiations with Paramount and Fender. I hope that one day you can have a chance to see this guitar but it is unlikely. Sadly I do not have the guitar nor any of the prototypes. They were all quickly appropriated by others involved with the project, not the producers or even Fender. Fender did display the guitar briefly and had a photo of it on their annual calendar.
If anyone is interested in producing this guitar or knows anyone that would be I would love to hear from you. It is possible that a version could be revived.
Photos of the Fender Star Trek Strat
Email: Ron@TrekVFX.com
Las Vegas, NV.